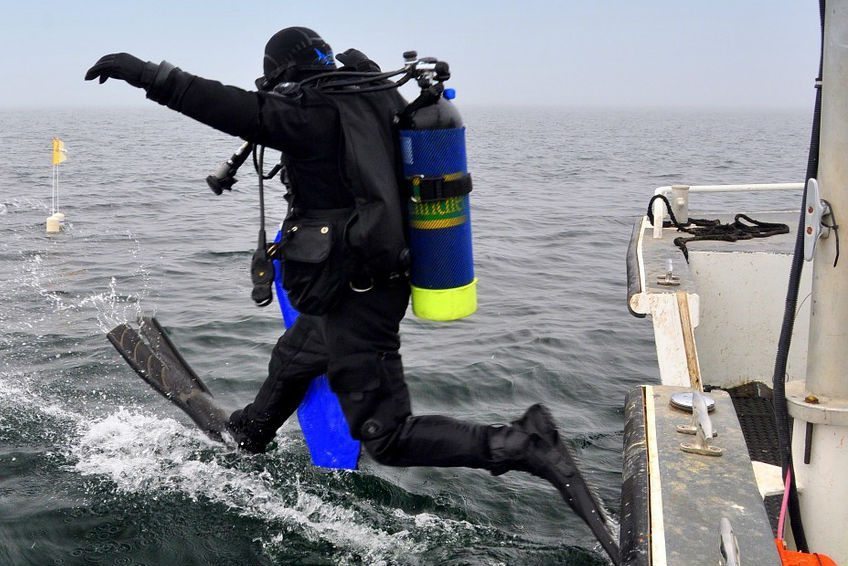 When people think of scuba diving for the first time they generally picture either A) James Bond or B) a sunny beach in the tropics. These are both of course possible but there are many different types of diving so here' a short overview.
Quarry and Lake Diving
There are many quarries and lakes in the UK that allow diving. Some such as the Scottish locks are open to the sea so can be similar to salt water dives but others such as the many quarries converted to dive centres, offer a great location for training and pleasure dives. Inland sites don't have tides and are generally sheltered water so are good for beginners. Many sites have had "attractions" added so there are many things to see underwater. For example Capernwray has an airliner!
These sites will also have a variety of fish and flaura and fauna depending on their location.
Many have car parks, changing rooms, cafes and air fills available so are ideal for a day out.
Shore Diving
As we live on an island there are hundreds of shore diving locations around the UK's coast. You can see divers wading into the sea in Anglesey, off Chesill Beach or from the rocks at St Abbs.
Do some research, contact local dive centres, speak to friends online and you will quickly open up a whole host of diving opportunities that you may have overlooked.
This is a great way to dive for a day as you can take along your own tanks, do a couple of dives, generally to fairly shallow depths, and then head home. You need to think about tides of course. Don't want to turn up at low water and find yourself miles from the water or the site too shallow to make diving worthwhile.
Other things to consider are food, drinks, toilet facilities, air fills if you need them and parking to avoid trecking with heavy gear over long distances.
Day Boat Diving
Weekend dives in the UK are often centred around hiring a day boat and skipper to take you to local sites a few miles away from a harbour. Again doing some research will show you options around the coast from the Farnes to Weymouth to Eyemouth, there are a lot of great choices.
A boat allows you to explore deeper and more inaccessible sites that cannot be reached from the shore. Typically you will do 2 and perhaps 3 dives in a day and then go back to port. The skipper will be able to advise you of the best sites for the conditions and you will need to plan your dives with them.
Boat diving is also weather dependent. If it blows up heavily then you may not be able to dive at all. If the weather is bad but not too bad you may have to switch site to find more sheltered water. In most cases you will be able to get out somewhere.
Diving from a boat generally means you need a group of divers so you can put this together yourself with your club or you can speak to the skipper and see if they have any spaces on already arranged trips with other divers.
Liveaboard Diving
Liveaboards are where you hire a boat for a number of days and eat, sleep and dive on board. Yes these are available in the the UK, certainly sailing out of harbours in Scotland and touring around the many islands and excellent dive sites available.
As with any boat diving, they are weather dependent and your route out and back will change with the weather forecast. You will get to see some amazing locations both above and below water as you can travel out to places that are much harder to reach by car.
Of course this is also a very common option for diving overseas such as in the Red Sea and Maldives.
We recommend trying all of these as part of the fun of diving is visiting places you've never been before and discovering new things.