DIVER STRESS & RESCUE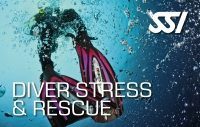 Diving is a sport and is great fun but like skiing or climbing there are also potential dangers involved and it is important you train for unexpected emergencies.
Stress is a major contributor to rescue situations and diving accidents. The SSI Diver Stress and Rescue course you will teach you about accident prevention and how to handle problem situations if they occur during a dive.
The programme is all about avoiding, recognising and solving problems both on the surface and underwater.
The course typically takes between two and four days during which you will participate in academic and in-water sessions in the pool and in the open water. As a prerequisite for certification you need to have a valid CPR, First Aid & Oxygen Provider certificate.
We use our training pool in Stockport and then a sheltered local open water site for the training programme which includes the following elements:
COURSE CONTENT
What Is Stress?
Stress In Diving:Causes And Prevention
Detecting And Dealing With Stress
Accident Management
Skills Needed To Deal With Panic And Rescues
Conditions That Complicate Rescues
TRAINING SESSIONS
Classroom training takes place in our Stockport training facility and the open water dives will be carried out at a local diving centre, typically a quarry such as Capernwray.
You can also select to do your diver stress and rescue training in conjunction with another course or speciality. Please contact us and we can discuss the options and create a personalised dive training plan for you.
Watch the SSI Diver Stress & Rescue Training video to find out more…
Use of O2 equipment and practice mannequins
Training documentation & certificate
SSI digital online training materials
Diver Stress & Rescue – £300.00
*Terms & Conditions Apply. Please contact us for details.