SEARCH & RECOVERY
Finding treasure or an undiscovered wreck is something every diver thinks of more than once in their diving career.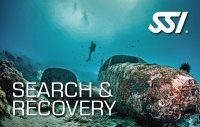 Whether it's the gold of a sunken ship, a lost ring or perhaps more likely your buddy's dive torch that they accidentally lost on the previous dive, there are times when the appropriate training on how to search for lost objects underwater would be beneficial.
SSI offers a structured program for SEARCH AND RECOVERY where you will learn to perform different search patterns with the help of ropes and compasses, and to plan search and recovery operations in a team.
You will also learn the correct handling of one or more lifting bags in order to bring heavy objects securely to the surface.
We use our training pool and classroom in Stockport and then a sheltered local open water site for the training programme which includes the following elements:
COURSE CONTENT
Factors That Affect Your Search and Recovery Operation
Planning and Organizing Your Search and Recovery Operation
Your Search Techniques
Your Recovery Techniques
TRAINING SESSIONS
Classroom training takes place in our Stockport training facility and the open water dives will be carried out at a local diving centre, typically a quarry such as Capernwray.
You can also select to do your search and recovery training in conjunction with another course or speciality such as navigation. Please contact us and we can discuss the options and create a personalised dive training plan for you.
Watch the SSI Search and Recovery Training video to find out more...
Use of lifting bags and other specialist items
Training documentation & certificate
SSI digital online training materials
Diver Stress & Rescue – £195
*Terms & Conditions Apply. Please contact us for details.