ONLINE TRAINING WITH SSI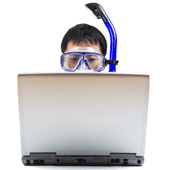 When you sign-up with Aqualogistics for your training, you will receive access to the SSI online training programme as part of your package.
So you will be able to use SSI's Digital Learning platform to study at your speed anytime and anywhere. The system works on your computer, smart phone or tablet. The courses are clear, concise, completely interactive and fun. They make use of high quality video and images to enhance your understanding. Of course if you have questions, your instructor will also be able to help.
HERE ARE SOME OF THE ADVANTAGES:
 Environmentally friendly, with no heavy books to carry around..
 Digital is always online at divessi.com.
 Download the FREE DiveSSI App and the materials are available online or off, anytime, anywhere..
 Comprehensive HD videos, animations, graphics and photos to strengthen the learning experience..
 Add personal notes inside Digital to discuss with your Aqualogistics instructor
 Interactive review questions to test your knowledge.
This is one of the most advanced online training programmes available anywhere.