PERFECT BUOYANCY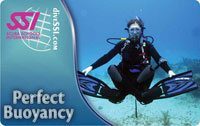 If there is one skill that will benefit your diving the most it is probably having great buoyancy control. Every diver wants to be a "good diver" and mastering Perfect Buoyancy is the best way to start.
Improving your buoyancy control skills is one of the first things we recommend for new divers. Every diver who wants to improve their diving skills and at the same time wants to perform active environmental protection should take the SSI PERFECT BUOYANCY course.
Nearly every diver who wants to dive on great spots on holiday is requested to do a Check-Dive and buoyancy control is one of the essential skills that has to be performed. Poor control is likely to lead to damage to the reef or area where you are diving so it is done to make sure you can dive under good control of your fins and position in the water.
The destruction and harm caused by divers with weak buoyancy skills is having an impact on reefs worldwide. Additionally, perfect buoyancy control is a prerequisite for nearly all Specialty Courses.
Buoyancy skills are important for UK diving where visibility is at a premium and poor control can lead to silt being stirred up unnecessarily, destroying the quality of your dive.
COURSE CONTENT
The Equipment for Buoyancy Control
The Basic Knowledge of Buoyancy
Controlling your Buoyancy in the Water
Perfect Buoyancy Control as an Active Contribution to the Underwater World
TRAINING SESSIONS
Classroom training takes place in our Stockport training facility and the open water dives will be carried out at a local diving centre, typically a quarry such as Capernwray.
You can also select to do your perfect buoyancy training in conjunction with another course or speciality. Please contact us and we can discuss the options and create a personalised dive training plan for you.
Watch the SSI Perfect Buoyancy Course Training video to find out more…
Loan of any equipment needed but you will be expected to have regular scuba gear.
Training documentation & certificate
SSI digital online training materials
Perfect Buoyancy – £150
*Terms & Conditions Apply. Please contact us for details.