TESTING | AIR FILLS | TRAINING
Aqualogistics are an IDEST training centre and are able to teach cylinder courses and composite cylinder courses in house at our dive centre and equipment shop in Stockport.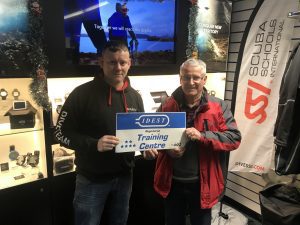 Alistair Renolds (pictured right) from IDEST and Aqualogistics have worked together for several years to enable us to achieve this certification and we are proud to have now reached this level.
Interested in a Cylinder Course?
If you or anyone you know are interested in any of the courses we can offer please feel free to get in touch with Howard as we can accommodate dates and times in our classroom and workshop to suit your timetable.
Our long term partnership with IDEST means we can offer an insight to help you to understand the relevant criteria and upkeep of your cylinders as after all you are Breathing from them !!!!!
The History of IDEST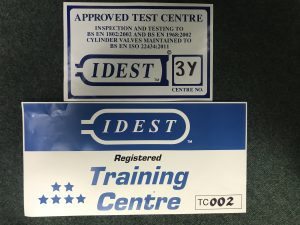 During the 1970s and 80s it was seen that diving cylinders were not being tested and it was realised that there was the possibility that divers, and more probably fillers, could be injured or killed.
Mike Todd and a group of other prominent divers, who shared the same concerns, formed the Inspectorate for Diving Equipment Servicing and Testing in 1985 with the aim of improving diver safety through cylinder testing.
However, it was discovered that some test centres were not testing cylinders properly. In fact in some cases the cylinders were cursorily looked at and stamped with no checking of cylinder condition or valve thread form.
It soon became obvious that more people were needed to inspect the growing number of test centres that wanted certification.
Because of this increase in the number of Test Centres, IDEST now has approved inspectors that cover the entire country and some overseas locations.