DRY SUIT DIVER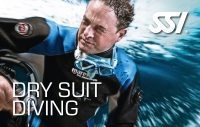 If you want to dive in UK waters and in the colder climates, DRY SUIT DIVING is the course you should take. Most UK diving destinations are best suited to diving in a dry suit as other suits wont provide enough thermal protection.
In your DRY SUIT DIVING program you will learn about the advantages of dry suit diving, different suits, valves, underwear and dry suit accessories.
During the 2 mandatory dives you will apply correct dry diving techniques and demonstrate the correct care and maintenance of a dry suit.
COURSE CONTENT
Why Dry Suits?
Types of Dry Suits
Dry Suit Valves
Underwear Selection
Dry Suit Accessories
Dry Suit Techniques
Maintenance of Dry Suits
Dry Suit Repairs
TRAINING SESSIONS
Classroom training takes place in our Stockport training facility and the open water dives will be carried out at a local diving centre, typically a quarry such as Capernwray.
You can also select to do your Dry Suit training in conjunction with another course or speciality. Please contact us and we can discuss the options and create a personalised dive training plan for you.
Watch the SSI Dry suit Diver Training video to find out more…
Dry suit hire
Training documentation & certificate
SSI digital online training materials
Dry Suit Diver – £175
*Terms & Conditions Apply. Please contact us for details.