Start your Red Sea adventure today…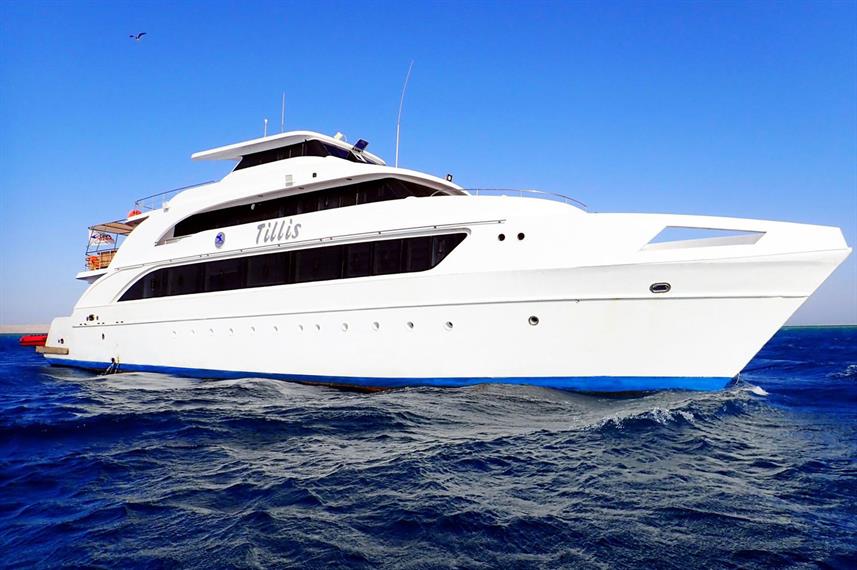 74 Egypt liveaboards available
https://www.liveaboard.com/diving/egypt?CID=7199&m=11
Weekly Offers
https://www.liveaboard.com/diving/egypt/red-sea-re-aggressor?CID=7199m=6/2022
https://www.liveaboard.com/diving/egypt/thunderbird?CID=7199m=12/2022
https://www.liveaboard.com/diving/egypt/tillis?CID=719m=3/2022
https://www.liveaboard.com/diving/egypt/longimanus?CID=7199m=12/2022
Liveaboard Diving in Egypt
Scuba diving in Egypt's Red Sea invigorates divers as they navigate spectacular reefs, millions of brilliantly-colored fish and corals, or historical wrecks.
Liveaboard diving in the Egyptian Red Sea is spectacular, the land is known for its ancient history – Pharaohs and Pyramids but is also a mecca for scuba divers and snorkellers. Wrecks, colourful corals and big fish abound but it's the off-shore sites such as Daedalus, The Brothers & St. Johns, only reachable by dive liveaboards which can provide the ultimate thrill and the best experience.
Our Red Sea dive liveaboards offer a wide variety of itineraries to bring you to the best dive sites Egypt has to offer. Departing on a Sharm el Sheikh Liveaboard or Hurghada Liveaboard means you can dive into history at the wrecks of the SS Thistlegorm and Abu Nuhas combined with the stunning reefs in the Ras Mohammed Marine Reserve and the Straits of Tiran.
---
From Hurghada or Port Ghalib, our Red Sea liveaboards bring you to the Brothers Islands to offer amazing dive tours, most famous for their multitude of shark action, brightly coloured corals and anthias. You could spend a week at the Brothers Islands alone, but a 'Simply the Best' route to the Brothers, Daedalus and Elphinstone provide the opportunity to see Manta rays, Oceanic white tip sharks and the wonderful Anemone City. Some liveaboard dive safaris also stop at Marsa Alam where dugongs can be sighted. Explore the Deep South from Port Ghalib (Marsa Ghalib) with a dive safari to Fury Shoals, St Johns reefs or Rocky and Zabargad. Dive sites vary from steep walls to caverns and wrecks with plenty of pelagic action to be expected. The best Egypt liveaboards make it possible to dive these magnificent areas all year round though itineraries offered may vary with the seasons.
Liveaboard Dive Trips in Egypt
LiveAboard.com hosts a wonderful variety of over 60 different liveaboard boats. Most of our boats are MV's motor vehicle yachts ranging from 22 meters to 40 meters in length. Our boats can host anywhere from 10 to 26 divers depending on the liveaboard yacht, with a choice of budget-friendly up to luxury liveaboard. Electricity and internet connections are sometimes available but are subject to additional fees depending on the boat.
Guests usually arrive the day or night before the departure from the port. The boats tend to depart from the ports very early in the morning so that guests can immediately enjoy their first 'check dive' with their dive guides, on a shallow, current free, yet stunningly beautiful reef dive, and can then expect 3-4 dives per day usually. The Red Sea is renowned for incredible underwater visibility and lush wildlife. It is very rare to be disappointed with any dive site in Egypt.
The check dive will allow the dive guide to gauge the experience and comfort level of the group and individual divers. This information will help the captain and crew to choose the best dive sites suited to the guests and the current weather conditions.
Guests can ask to visit specific dive sites, and most boat captains will do everything they can to oblige. Liveaboard itineraries are subject to various unpredictable changes including weather conditions. All dives and especially some wreck dives are subject to divers experience and weather permitting. Liveaboard itineraries are dependent on the Egyptian government, coast guard and/or marine police approval. Every effort is made but liveaboards cannot guarantee diving at specific dive sites. The final decision lies with the captain and guide. Safety always comes first!
Dive Sites and Areas of Egypt
FURY SHOALS is located in Southern Egypt this area is best reached by liveaboard boat from Marsa Alam. This magnificent dive site has some of the most beautiful reefs in the Red Sea.
DAEDALUS is an amazing reef about 90 km southwest of Marsa Alam and is accessible by liveaboard boats. It surrounds a very small island with a lighthouse on it to warn passing boats that the water is very shallow. The reefs there are close to the surface and so offer a huge variety of wildlife in the extra warm water. Perfect for diving and snorkelling.
ABU NUHAS or Shaab Abu Nuhas reef is in the Shadwan Channel, just off the northern coast of Shadwan Island. There are 5 shipwrecks excellent for wreck diving.
RAS MOHAMMED MARINE RESERVE is an underwater national park at the southern extreme of the Sinai Peninsula near Sharm el Sheikh. Completely protected from fishing and commercial activity, its reefs are glorious and untouched.
ELPHINSTONE reef is a 400-meter cigar-shaped reef located in the southern Red Sea, close to Marsa Alam. It was named after Admiral George Elphinstone, a 19th century British naval commander. Elphinstone Reef is about 7 miles from the shore so it's best reached by liveaboard cruise.
ST JOHNS reefs are far removed from the coast of Egypt, not far from the Sudanese border. The St. Johns reefs cover an area of more than 290 square kilometres. This dive area can only be reached by liveaboard but is more than worth the trip.
THE BROTHERS Islands are two small islands in the Red Sea near Egypt. The islands are Big Brother and Small Brother Island. Big Brother has a lighthouse on it and Small brother is located just under 1 mile to the south. The best way to reach the Brother Islands is by liveaboard cruise.
STRAITS OF TIRAN are located in Northern Egypt at the beginning of the Gulf of Aqaba and is one of the best dive areas in Egypt. Four amazing dive sites, Jackson Reef, Woodhouse Reef, Thomas Reef and Gordon Reef make diving here on a liveaboard trip very special.
When to go
The best time to dive in Egypt is all year-round. With depths ranging from 5 meters (15 feet) to depths limited to recreational divers to even deeper dives for technical divers and visibility ranging from 15 meters (50 feet) to 70 meters (230 feet), Egypt diving season knows few limits. But be sure to take note of the currents, which could make for nice drift dives when planned properly. The water temperature in Egypt's Red Sea is 21 degrees Celsius (70 Fahrenheit) at its coldest and 30 degrees Celsius (104 Fahrenheit) at its warmest, which is like a soak in a bathtub of luxury with great visibility and underwater life.
Tips For Travellers
Minimum logged dives are required by some Red Sea liveaboards or on certain itineraries. Ensure you bring along your dive certification card and proof of dive experience (log books). Check dives are common on liveaboards and are often held on the first day.
The Red Sea is one of the saltiest bodies of water in the world, so adjusting your weights to compensate for greater buoyancy will be necessary.
The official language of Egypt is Egyptian Arabic, but English is widely spoken by crew and guides on most liveaboards. The main currency is the Egyptian Pound, but Euros, UK Pound Sterling and US dollars are widely accepted or easily exchanged also.
Electricity voltage runs at 220-240 volts; the standard socket is EU-style two-pin. Remember to bring plug adaptors for your electrical gadgets. A step down transformer will be required for appliances that normally operate on 110-120volts (USA/Canada), to avoid serious damage. This will convert 220/240 volt electricity to 110/120 volts.
How to get there & Ports of Departure
Cairo is the main airport city of Egypt. But there are other airports closer to the liveaboard departure points. Marsa Alam airport, Sharm El Sheikh airport and Hurghada airport are the principal airports for liveaboard departures in Egypt.
There are many direct flights to these locations from all over the world. But many more flights will connect to the Cairo airport before flying to the final destinations.
Upon arrival to Egypt, all guests must pay an entry visa of $25.00 to the Egypt immigration service. Some liveaboards offer free transfers from the airport or hotel as a part of the liveaboard package deal.
However, when transfers are not included in the price, visitors can expect airport transfers to range from $10.00 to $70.00 depending on the airport and departure port.
SAFAGA PORT is a port town in Egypt and often the departure point for liveaboard cruises. Many dive sites are accessible from Safaga like Panorama reef, Salem Express, Gassous Bay and many more. The nearest arrival/departure airport to Safaga is Hurghada International.
HURGHADA is located on the Egyptian mainland at the mouth of the Gulf of Suez. It is the main gateway for liveaboard trips to both the northern and southern sections of Egypt's Red Sea. Hurghada has its own International airport for liveaboard departures from this area.
SHARM EL SHEIKH is located on the Sinai Peninsula and overlooks the Straits of Tiran at the southernmost tip. Renowned for its beautiful reefs, and vibrant nightlife, it is a major tourist destination, liveaboard launch point and has its own International airport.
MARSA ALAM (Port Ghalib/Marsa Ghalib) is a town in south-eastern Egypt renowned for its beautiful sandy beaches. Sea turtles are extremely common near Marsa Alam so if you love diving with turtles, this is the place to visit. Flights are available directly to Marsa Alam International airport for liveaboard departures from this area.
Considerations
There are also various marine park fees per person per day to consider. Some liveaboard boats will include these fees in the package while others will require guests to pay onboard. These fees are paid onboard the boat and may be paid by Visa, Mastercard, cash or travelers checks if they are not already included in the package deal (Please check what option is best for your chosen liveaboard).
Extra Marine Park Fees may be payable onboard for some liveaboard trips.
When travelling abroad most countries will require you to have a passport that is valid for at least 6 months after entering the country and also a return ticket to leave. Please ensure your passport is valid for at least 6 months after the date you intend to enter. It's recommended that you check well in advance to arrange any necessary visa requirements for the country you intend to visit. See www.mfa.gov.eg for further information.
Please contact your doctor around 8 weeks before your trip to check whether you need any vaccinations or other preventative measures. Make sure you arrange comprehensive travel/medical insurance before you travel.
BOOK NOW!