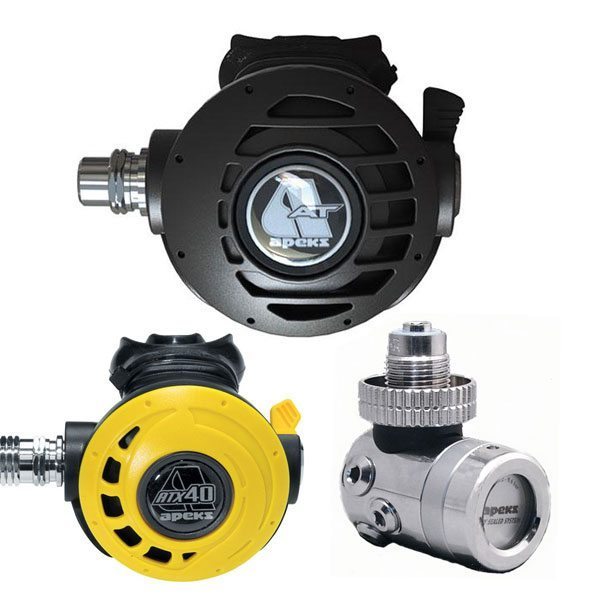 It's that time of year again when thoughts are turning to your first dives of the new season. With still a few months to go before most of us get back into the full swing of things, we recommend you unpack all of your gear and make sure it is in good condition and dive ready.
Annual Regulator Service
An annual servicing of your regulators is suggested by most manufacturers and we support all major regulator brands. Our technicians are fully qualified and have undergone training with most major suppliers. We also supply and stock regulators from companies such as Apeks, Poseidon and Aqua Lung.
A service typically involves inspection of your complete regulator set-up; disassembly of all hoses from your first stage and then careful disassembly of your first and second stages themselves.
These are then cleaned and inspected for damage. Regulator service replacement parts are discarded and the new items installed plus any damaged "non-service" parts will be replaced. If we have any concerns about your equipment at this stage we will call you to discuss these so we can agree the best solution.
We will then re-assemble all components and adjust the settings on your first and second stages to those recommended by the equipment manufacturer. The final step will include re-assembly of all hoses and a final check.
Typically turnaround will be 7 to 14 days but if you need something faster than this please feel free to give us a call and we can see what we can do to assist.
Second Hand Regulators
If you have been on a post Christmas splurge and purchased some new regulators second hand, we would strongly suggest that these are serviced and tested before you take them for a first dive.
However reliable the seller, correctly functioning regulators are vital for your diving safety, it is important that you know they are working properly when you jump in.
Other Diving Equipment
We also offer servicing on other items of equipment and are an IDEST approved cylinder servicing centre. If you need any technical advice please feel free to give us a call on 0161 480 5745.