Aqualogistics are proud to be a Suunto Partner Centre and have a full range of Suunto computers available.
If you visit our store then you will be able to discuss your style of diving with one of our technical team, have a demonstration of all of the Suunto computer range and see how they perform. You can then match the dive computer to the type of diving you are going to be doing.
Things to consider when choosing your computer are; What dive gas mixes are you going to be using? How deep are you likely to be diving? Do you want to link up to your gas supply? How big should the display be? Do you want to log your dives to a computer or smartphone?
There is a huge range of options available and we have listed the main ones below.
We have also just had the entire Suunto display area expanded and this now hooks into their online displays and information so you can find out everything you need to know when you visit.
The Suunto range includes: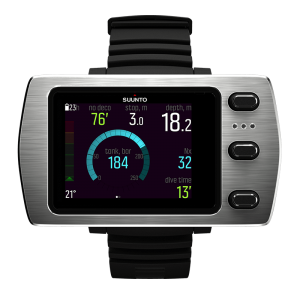 Watch Sized Dive Computers – The D Series which can be used both for diving and every day wear. Models are the DX, D4I and D6I.
The perfect combination of functionality and style for underwater adventures and everyday wear.
Large Display Dive Computers – Starting with the entry level ZOOP Novo, then moving on to the Vyper and Console Mounted units.
Iconic, robust devices for technical and recreational divers.
The EON Steel – A full colour, customisable advanced dive computer.
A new era in Suunto dive computers has begun. With insight from over 80 years, Suunto introduces its next generation dive computer. The intuitive Suunto EON Steel combines advanced technology with a bright color screen and customizable features and display to show clearly what you need.
Suunto Computer Servicing
We are also an accredited Suunto Service Centre so if you already own one of their dive computers and need it servicing then we can help. Just give us a call or drop by our dive store just off the M60.