THIS TRIP HAS NOW BEEN COMPLETED!!
Itinerary: Project Shark: Simply the Best
Dates: 10th – 17th November 2017
Aboard: M/Y blue Fin
The Vessel…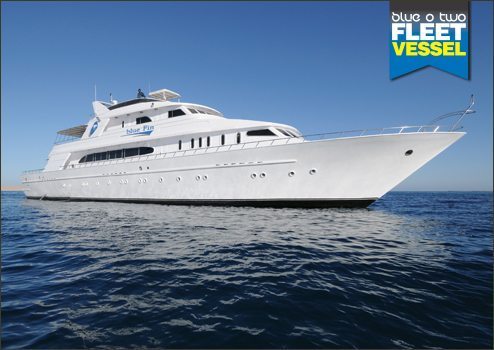 Built in 2005, M/Y blue Fin is the first vessel in the blue o two Egyptian liveaboard fleet. She is 39m in length and takes a maximum of 24 divers on each trip. She went through an extensive refit early in 2016 and now has a great contemporary look and feel. All cabins benefit from en-suite facilities, air conditioning, mini refrigerators and personal entertainment systems and the 3 king suites also offer large double beds and bigger plasma screens. These king suites which dominate the bow on the lower and middle decks, spreading the whole width of the vessel – the perfect treat for couples. M/Y blue Fin is equipped with a nitrox membrane, booster pump and can also cater for rebreather divers.
The Itinerary…
Taking in the world-famous marine parks at Brothers and Daedalus, this thrilling itinerary of spectacular drop offs is perfect for divers keen to glimpse some big animals at these remote off-shore reefs.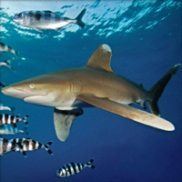 The aim of 'Project Shark' is to highlight the global issues facing sharks, with a Red Sea focus, as well as enjoying some of the most spectacular reefs that the Red Sea has to offer. Founded by our expert dive guide and marine biologist, Elke Bojanowski Ph.D, in her quest to track and collect basic population data on oceanic whitetip sharks (Carcharhinus Longimanus), in the Egyptian Red Sea. PLEASE NOTE: Divers must have a minimum of 30 logged dives to take part in this trip.
Sample Itinerary:
**PLEASE NOTE** the itinerary below is just an example of the route taken and the order and dive sites are not guaranteed. All dives sites are subject to weather conditions and the final route taken is at the absolute discretion of the captain and dive guides.
– Day 1 – Gota Abu Ramada x 3
– Day 2 – Big Brother
– Day 3 – Little Brother
– Day 4 – Daedalus
– Day 5 – Elphinstone
– Day 6 – Salem Express/Panorama/Abu Kaffan, Abu Hashish
Itinerary Highlights: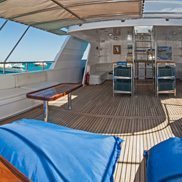 Big Brother
A 400 metre long island offering fabulous wreck diving and wall diving. The wreck of the Numidia lies on the northern tip between 10 and 80 metres. The north-west side of the island houses the wreck of the Aida. On every section of this reef the wall is covered with corals and life.
Little Brother
Boasts a very high concentration of life within a very small area. Fan coral forests, overhangs, hard and soft corals in a variety of astonishing colours and of course there are plenty of fish! With regular sightings of hammerheads, thresher sharks, grey sharks and white tip reef sharks, at the right time of year.
Daedalus Reef
This huge reef rises from the sea bed in the middle of the Red Sea. Easily recognized by its zebra-striped lighthouse, this massive reef offers some of the most amazing dives in the Red Sea. The sheer walls are covered in over-grown hard coral formations and a variety of reef fish. Napoleon wrasses and turtles are often cruising by, but make sure you keep your eyes open on the blue! Daedalus is one of those places where anything can happen… oceanic white tip reef sharks, grey reef sharks, a lonesome hammerhead shark or schools of them. The excitement and the sheer size of this reef means that you can do several dives and not get bored!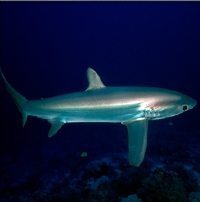 Elphinstone Reef
A Red Sea legend. One of the most beautiful reefs, with north and south plateau's covered in hard and soft corals. This is a truly awesome reef.
All dive sites are subject to weather conditions and cannot be guaranteed.
BOOK NOW!
£1149 per person + £25 Visa
Includes: Return flights MAN-HRG, transfers from/to airport in Hurghada, 7 nights full board accommodation, tea/coffee/water/soft drinks, snacks, 6 days diving, 12lt cylinder and weights.
Terms: All divers must have a minimum of 30 logged dives to take part in this itinerary
Please contact Geoff, Mark or Howard at Aqualogistics on 0161 480 5745. Alternatively, email geoff@aqualogistics.co.uk for more information or to book on to this Red Sea safari.