Itinerary: Daedalus & Fury Shoal
Dates: 8th – 15th October 2018
Aboard: M/Y blue Horizon
The Vessel…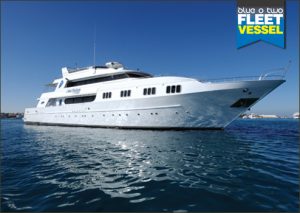 Updated as recently as 2016, multi-award winning M/Y blue Horizon is our flagship vessel and the benchmark for all other blue o two vessels to follow. With a contemporary and stylish feel, M/Y blue Horizon takes liveaboard luxury to a whole new level and is truly deserving of the title 'Best Liveaboard' in the 2016 and 2015 Sport Diver awards..
The Itinerary…
This itinerary combines the spectacular drop-offs and big pelagics of Daedalus with the stunning reefs and coral gardens of Fury Shoal. This is a great opportunity to dive some of the most famous sites in the Red Sea.
Sample Itinerary:
**PLEASE NOTE** the itinerary below is just an example of the route taken and the order and dive sites are not guaranteed. All dive sites are subject to weather conditions and the final route taken is at the absolute discretion of the captain and dive guides.
Day 1 – Visit a dive site local to Port Ghalib for a check dive before heading south for your afternoon and night dive on the way to Fury Shoal.
Days 2-3 – We normally plan to spend two days at Fury Shoal where we aim to make four dives each day.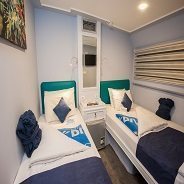 Days 4-5 – Two days at the famous Daedalus reef hoping to encounter some large pelagics.
Day 6 – After an early morning dive at Elphinstone, enjoy a relaxed dive local to Port Ghalib allowing you to cruise into harbour in the early afternoon. Take advantage of an evening onshore to purchase souvenirs and enjoy Egypt's famous hospitality before your journey home the next day.
Itinerary Highlights:
Daedalus Reef
This huge reef rises from the sea bed in the middle of the Red Sea. Easily recognized by its zebra-striped lighthouse, this massive reef offers some of the most amazing dives in the Red Sea. The sheer walls are covered in overgrown hard coral formations and a variety of reef fish. Napoleon wrasses and turtles are often cruising by, but make sure you keep your eyes open on the blue! Daedalus is one of those places where anything can happen… oceanic white tip reef sharks, grey reef sharks, a lonesome hammerhead shark or schools of them. The excitement and the sheer size of this reef means that you can do several dives and not get bored!
Fury Shoal
Boasts a very high concentration of life within a very small area. Fan coral forests, overhangs, hard and soft corals in a variety of astonishing colours and of course there are plenty of fish! With regular sightings of hammerheads, thresher sharks, grey sharks and white tip reef sharks, at the right time of year.
Elphinstone Reef
A Red Sea legend. One of the most beautiful reefs, with north and south plateau's covered in hard and soft corals. This is a truly awesome reef!
QUALIFICATION NEEDED:
The currents at these fantastic dive sites are what make its sightings so exciting but also means that this itinerary is not suitable for inexperienced divers. For your safety, we ask that divers must be a PADI Open Water diver or equivalent and have logged a minimum of 30 dives to join this safari. Please note that night diving and snorkelling is prohibited in the marine park where you will normally spend three or four days of the trip depending on the route. To get the most out of these superb dive sites, many dives will be from a RIB.
£1,299 per person + £28 VISA + £100 flight supplement from MAN
Includes: Return flights MAN – HRG, internal transfers, full board accommodation on the vessel (water, tea/coffee, soft drinks), all diving on 12ltr cylinder with air fills and weights, and fuel surcharges.
BOOK NOW!
For more information or to book on to this Red Sea liveaboard trip, please contact Mark at Aqualogistics on 0161 480 5745 or email geoff@aqualogistics.co.uk.