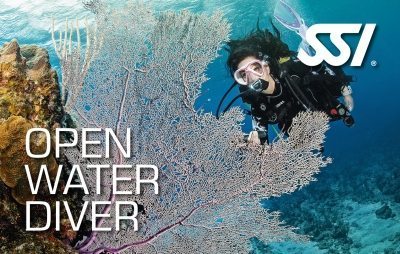 SSI Open Water Diver Training is the first stage of becoming a certified diver  using the SSI system.
As a fully registered SSI dive centre, Aqualogistics can train you as you begin the fantastic sport of Scuba Diving.
There are three main elements to the SSI training programme, these are:
Classroom and online learning so you have a good grasp of the theory of scuba diving and the equipment you will be using. With SSI's online resources you can learn at your own pace and gain the knowledge you need at a time and place that suits you.
Then there are the pool sessions where we introduce you to the equipment and basic skills needed for diving. From the correct swimming techniques through to how to assemble and check your gear before diving.
Once you have mastered theses scuba skills, we will take you to a sheltered open water venue, typically a quarry, where you will begin your training in open water and ultimately the sea.
If you are thinking of taking up diving, SSI is a great way to learn and is recognised around the world. There are many more levels of training and speciality courses that allow you to develop your skills exactly how you want to.  Everyone is different and SSI training allows you the freedom to tailor your training to your own needs, whether they are purely for pleasure diving or if you are looking to take up scuba diving as a profession.
Please give us a call if you have any questions or continue reading in more detail on our dive training pages.