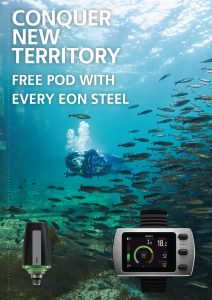 Suunto have just launched their Spring 2017 promotion…
With every EON Steel, receive a POD free of charge.
The promotion will run from 18th April 2017 until the 30th June 2017, subject to stock. Full terms and conditions below.
The Suunto EON Steel can be used for all types of diving and includes the following great features:
– Air/Nitrox/Trimix/Gauge/CCR (fixed set point)
– Bright, high contrast display for easy reading in any dive conditions
– Customisable screen layout
– Simple, easy interaction with menus and buttons
– Suunto Fused™ RGBM for maximizing dive time
– No-decompression dive planner
– Monitor multiple tank pressures with the Tank POD*
– Easy planning and customization with Suunto DM5
– Use with strap or bungee (included)
– Flip display
– Brushed stainless steel bezel
– Highly durable and resistant Xensation™ glass
– Guaranteed to 150m depth
– Rechargeable battery: 20-40 hours of dive time with one charge
*One Tank POD per gas source required.
Terms and Conditions
1. Offer is subject to limited stock.
2. Free POD is available when ordered at the same time as a EON Steel
3. Suunto Diving UK have the right to end offer at any time.
4. Instructor, Key Staff, School, Service and Promotional units are not eligible for the offer.
5. Normal account discount applies.
6. Account must be in terms.
7. Standard shipping charges apply.
8. Offer closes 30th June 2017